Daily Archives:
August 2, 2012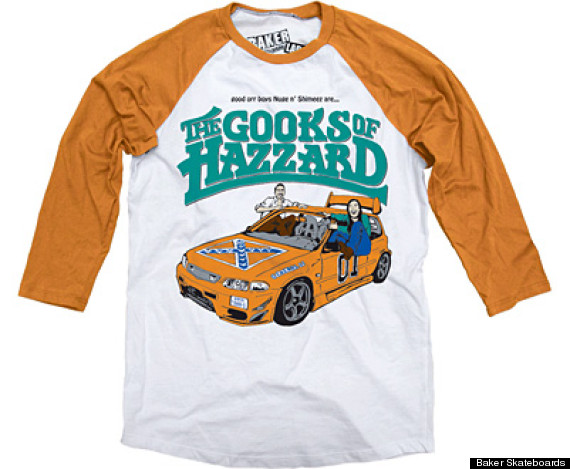 A skateboard company is being accused of "profiting from racism" by selling T-shirts which refer to Asian men as "gooks".
The shirt features two Asian men in a car under the title "Gooks of Hazzard", in an apparent pastiche of the Dukes of Hazzard series.
A strap above, with an apparent dig on the stereotypical Asian accent, identifies them as: "Good orr boys Nuge n' Shimeez".
"Nuge" refers to professional skater Don "The Nuge" Nguyen – who is sponsored by Baker Skateboards.
A spokesman for the Asian American Justice Center told TMZ: "It's unacceptable for Baker Skateboards to create a depiction of Asian Americans which uses racial slurs and perpetuates racist stereotypes.
"Baker Skateboards, and the outlets that sell this shirt, should be aware that use of the term 'gook' on their apparel is offensive and quite simply amounts to racism for sale. No one should seek to profit from racism."
Matthew Collins of Belfast-based Hope Not Hate, told Huffington Post UK the T-shirs were "vulgar and tasteless".
He added: "We don't hear the term so much over here, but unfortunately we have equally foul words to describe East Asians."
Paul Kearns, of anti-racism education charity Show Racism The Red Card, said: "We would say that T-shirt is obviously racist and we agree with the comments that suggest this is essentially a case of racism for sale.
"We hope to see it withdrawn in the very near future. It promotes racial stereotypes and it is unacceptable."
Requests for comment from Baker Skateboards are as yet unanswered.
'The G**ks Of Hazzard': Is Skateboard Company 'Profiting From Racism' Or Is Asian Slur Simply 'Tasteless'?.
Categories:

racism, racism is white supremacy is racism, white supremacy
Tags:

9 areas of people activity, africa, African, African psychological revolution, anti-black, anti-blackness, black love is a revolutionary act, black men, Black people, black relationships, black women, c.o.w.s., context of white supremacy, counter-racism, discrimination, genocide, global system of white supremacy, interracial genocide, Nazi, neo-Nazi, Person of color, Problem solving, psychological revolution, Race and ethnicity in the United States Census, racial slurs, racism, racist, replace white supremacy with justice, rwswj, Skype, Talk Radio Network, TalkShoe, the religion of white supremacy, white supremacy, white terror domination, white terrorists, white-on-black crime, white-on-nonwhite crime
Leave a comment